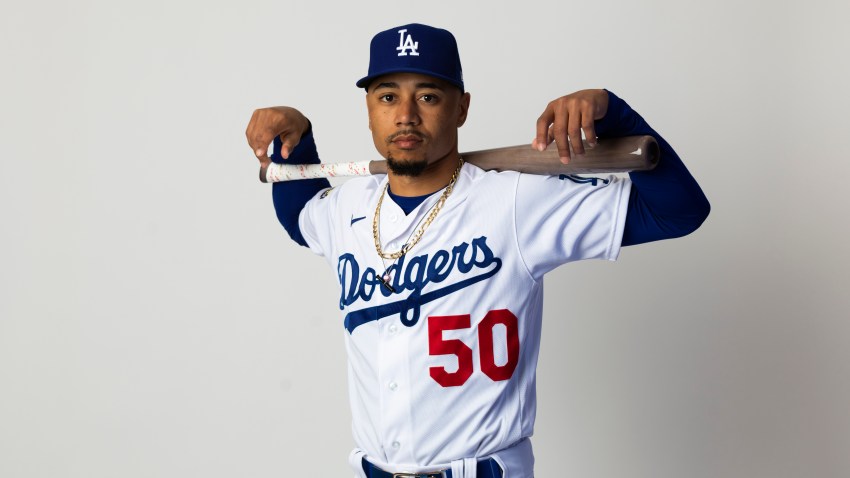 Los Angeles Dodgers (Last Year: 106-56): 39-21
The Dodgers had one of the best lineups in baseball last season and then added a top five player in the world to it. Mookie Betts' average season over the last five years has been .302/.374/.524 with 27 home runs and 8 WAR. Add in the DH to this season and he doesn't even replace anyone in the lineup which led the NL in runs and home runs last season. Betts will play right, moving reigning MVP Cody Bellinger over to center. In three years in the bigs, Bellinger has hit 111 homers, won a Rookie of the Year and an MVP, and has been worth 17 WAR. Max Muncy and Justin Turner have both been tremendous after being picked up off the scrap heap for the last several years and Corey Seager is healthy after missing most of 2018 and then needing time in 2019 to get his timing down. The last year that Seager entered fully healthy he was an All-Star and got MVP votes. Betts taking over an outfield spot shifts Joc Pederson to the DH role, where he doesn't need to focus on defense and can just mash. Veteran A.J. Pollock tested positive for COVID and considered opting out of the season, but his wife convinced him to play. He's battled injuries since joining the Dodgers but is an All-Star caliber player when healthy. Second year catcher Will Smith has been on fire in Summer Camp, and will handle most of the duties behind the dish this season. Top prospect Gavin Lux was expected to be the starting second baseman coming into this season but was a late arrival to camp and was optioned to the minor league side to get more at bats in a controlled environment. The Dodgers have the luxury of taking their time with Lux because veterans Chris Taylor and Kiké Hernandez can take over and play multiple positions whenever they are needed. The Dodgers don't have a weak link in this lineup.
The Dodgers rotation has been a huge strength in years past, but may take a slight step back this season. Hyun-Jin Ryu finished second in Cy Young Voting last season but now he's in Toronto and Minnesota poached Rich Hill traded for Kenta Maeda. David Price was acquired alongside Mookie Betts but has opted out of the 2020 season due to the virus, so he won't make his Dodgers debut until 2021. Clayton Kershaw and Walker Buehler remain to anchor the rotation. Kershaw is not as dominant as he once was but still had a 3.03 ERA and a top 10 Cy Young Award finish last season. Buehler is a rising ace, who followed up a strong 2018 rookie season with an All-Star campaign in 2019. Behind them are veterans Alex Wood and Ross Stripling. Wood struggled due to injuries in Cincinnati last season but was a very strong starter for the Dodgers for years before that. If healthy, he should be able to give the Dodgers a good third option. Stripling split time between the rotation and the bullpen the last few seasons, and was even an All-Star in 2018. If he can get near that level, this rotation immediately becomes deeper. Julio Urias has dealt with injuries and legal issues but will try to live up to his potential when he was a top prospect a few years back. Prospect Tony Gonsolin could also have an impact as the season goes on. The bullpen is not currently the strength that it once was, but a few bounceback seasons could help that. Both Kenley Jansen and Blake Treinen struggled in 2019 after dominating in previous seasons, so them righting the ship is important for L.A. in 2020. Joe Kelly was signed to a big deal before last season and struggled mightily to open the season but rebounded as the season went on. They also took a flyer on Jake McGee from Colorado to try and resurrect his career. Young arms Dustin May and flamethrower Brusdar Graterol (acquired from Minnesota in the Maeda trade) will also factor into the pen this year.
2. Arizona Diamondbacks (85-77): 31-29
The Diamondbacks added Starling Marte and Kole Calhoun to the fifth best offense in the NL from a season ago. Marte comes over from Pittsburgh after a terrific eight year stint in which he produced every year he was healthy. Calhoun has struggled a bit the past couple of years and just recovered from the coronavirus but has serious pop when he connects. Calhoun takes over for Adam Jones after he left to play in Korea, and Marte's addition allows Ketel Marte to move to second. Marte was spectacular last season, slashing .329/.398/.592 with 32 home runs and finishing 4th in the MVP race. He's joined on the infield by Christian Walker, Nick Ahmed, and Eduardo Escobar, all of whom came into 2019 with questions about their bat which were swiftly answered by career best seasons. With the DH in place, Jake Lamb can fit in there after being squeezed out of everyday playing time by Walker and Escobar. David Peralta is healthy again after missing 63 games in 2019 after a 30 homer season in 2018 and should reclaim that right field spot. Prospect Daulton Varsho could also see time behind the dish if Carson Kelly struggles or in the outfield should a need arise. The Diamondbacks do lose points in my book because they didn't re-sign my sweet prince, Wilmer Flores.
The Diamondbacks brought in Madison Bumgarner to be their ace with a 5 year, $85 million contract. Bumgarner is a postseason legend but has shown signs of decline over the last two seasons. He still represents an upgrade for them, and having a veteran arm with his experience can't hurt, at least in the short term. Number two starter Robbie Ray really struggled last year and is now three years removed from his All-Star season, but can provide good enough innings over a full season. Zac Gallen came over in a midseason trade with Miami last July and showed real promise, pitching to a 2.81 ERA overall over 80 innings. He'll need to take a next step to show he can be a quality starter in this rotation. Luke Weaver had a very strong 12 start sample size last season, but dealt with elbow injuries and doesn't have incredible stuff. Veteran Mike Leake opted out of the 2020 season, so Merrill Kelly will take over the 5th spot in the rotation. If nothing else, Kelly will eat up innings, after he threw 184 a season ago. Alex Young, Jon Duplantier, and Taylor Clarke all will provide depth options while also working out of the pen. Veterans Archie Bradley and Hector Rondon will be the late inning relievers, and both are more than capable of closing out games given the opportunity. Junior Guerra and Andrew Chafin are tenured arms who should be called upon opten to get outs this season. Kevin Ginkel does not have the best stuff, but dominated in relief in the minors and in a 24 inning audition last season. He may be thrust into a bigger role depending on how this season plays out.
3. San Diego Padres (70-92): 31-29
Despite the Padres losing over 90 games last season, I don't think this is too bold of a prediction. They brought in Tommy Pham and Trent Grisham to add pop to a lineup that finished 13th in the NL in runs a season ago. Pham smacked 21 homers and was a big piece of Tampa's successes last season, while Grisham showed potential with Milwaukee last season and is slotted into an outfield spot for opening day. Most of the improvement will have to come from the holdovers. Manny Machado was solid in his first season with the Padres but will have to improve on his 2.7 WAR campaign if the Padres are to improve as a group. They also will need more from first baseman Eric Hosmer, who has really disappointed since signing a gigantic deal a couple of years ago. Even a league average season from him would really help out this team. Veterans Wil Meyers and Josh Naylor will stay in the lineup in the outfield and DH and are both capable of solid offensive seasons, and young catcher Francisco Mejia will try to unlock his potential as an everyday catcher. Jurickson Profar was brought into play second base and the Padres are hoping he can recapture what once made him the top prospect in baseball. The biggest piece in this lineup is shortstop Fernando Tatis Jr. Tatis was incredible in 84 games last season, slashing .317/.379/.590 and finishing third in ROY voting despite playing just those 84 games. If he stays healthy he might be a candidate for MVP by the time the season ends.
Chris Paddack did not win any NL Rookie of the Month awards last season but did flash potential to be an ace for years to come, despite a midseason assignment to Single A. Paddack went 9-7 with a 3.33 ERA while striking out over a batter per inning, and will make a start on Opening Day for the first time in his career. Joey Lucchesi is a crafty left hander who hides the ball well and has shown potential in his first two years in the league. Dinelson Lamet returned after missing all of 2018 with very high strikeout rates in a small sample last year which could lead to bigger things in 2020. Veteran Zach Davies was also acquired from Milwaukee to add depth to the rotation. But all eyes are on when top prospect MacKenzie Gore will debut. Gore is the top pitching prospect in all of baseball and dominated the minors last season to the tune of a 1.69 ERA. The Padres bullpen is terrific. Kirby Yates was an All-Star last year with an MLB leading 41 saves and a 1.19 ERA. He'll be joined by reliever Drew Pomeranz, who signed a 4 year deal after dominating in relief for Milwaukee down the stretch last season. Holdovers Matt Strahm, Craig Stammen, and Andres Munoz all had solid seasons in 2019 and will be counted on to replicate those in 2020. They also acquired relievers Emilio Pagan and Tim Hill to strengthen an already strong bullpen.
4. Colorado Rockies (71-91): 26-34
On paper, the Rockies have one of the better offenses in baseball. Nolan Arenado, Trevor Story, Charlie Blackmon, and David Dahl are all upper echelon, all star caliber hitters, with Arenado leading the way. Dahl needs to prove that he can stay healthy, but a shortened season might help in that regard. Daniel Murphy struggled in his first season in Colorado, but a move over to DH might help him as he won't have to concentrate on anything but hitting. Outfielder Ian Desmond opted out of the 2020 season, so veteran signing Matt Kemp and rookie Sam Hilliard will fill in. Kemp can't be counted on to produce like he once could, but could be a good right handed option in limited playing time. Hilliard hit 7 homers over 77 plate appearances in 2019 and was the organization's number five prospect, so he should get the chance to take over should Kemp struggle in any way. Ryan McMahon has had two below average offensive seasons at first base, but did show marked improvement from 2018 to 2019 and another jump could get him into productive territory. Light hitting, good fielders Tony Wolters and Garret Hampson round out the starting 9.
The Rockies rotation is incredibly inconsistent. German Marquez, Kyle Freeland, and Jon Gray have all flashed ace potential (Freeland finished 4th in Cy Young voting just two years ago) but have also really struggled at times. Marquez has the best stuff and the most potential of the three, but slumped to a 4.76 ERA last season while giving up 29 home runs. Freeland completely collapsed to the tune of a 6.72 ERA and, while Jon Gray had a sub 4 ERA, underlying numbers show that he was more lucky than good. Regardless, all three of these pitchers will be in the rotation, joined by Anthony Senzatela and Jeff Hoffman to start the season, both of whom had ERAs above 6 last season. The bullpen is worse. Closer Wade Davis had an ERA above 8 last season and Jairo Diaz's was over 4.5. Scott Oberg had a strong 2.25 ERA but similarly to Gray, underlying numbers show more luck than anything else. In a cool story, Daniel Bard will pitch in the majors for the first time since 2013, but expecting too much from him would be foolish.
5. San Francisco Giants (77-85): 20-40
The Giants are not going to score a lot of runs this season. They finished 14th in the NL in runs scored last season and enter 2020 with Buster Posey opting out and Evan Longoria and Brandon Belt on the injured list with nagging injuries. Hunter Pence was brought back from Texas after a surprisingly resurgent season, Mike Yastrzemski showed promise in his rookie season, and my king Wilmer Flores will be the everyday first baseman for the time being. Those are the positives. Brandon Crawford was absolutely brutal offensively last season and presumptive starting catcher Rob Brantly is a career negative WAR player. Mauricio Dubon might be something at second and Alex Dickerson is an okay veteran, but this offense is very bad. At least top prospect catcher Joey Bart should debut and get serious playing time in an otherwise lost season.
The rotation lost postseason legend Madison Bumgarner in Free Agency and didn't make any significant upgrades. Johnny Cueto will step in to start on opening day, but he's now 34 and missed most of the last two seasons with injuries. Jeff Samardzija was their best starter a year ago, but has been mediocre overall since signing with San Francisco in 2016. Drew Smyly and Kevin Gausman are next in line following terrible 2019 campaigns, and Tyler Anderson is currently slated as the number five starter. Logan Webb may also see some time in the rotation this year. The bullpen lost Will Smith and Fernando Abad, and will go the closer by committee route, headlined by Tony Watson. He, Trevor Gott, and Tyler Rogers are all capable relievers but likely will not get many chances to lock down a lead.